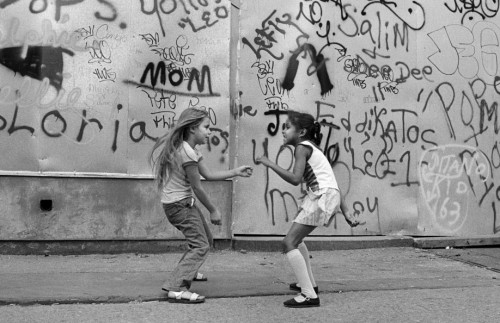 Image by Martha Cooper from here.
While
Martha Cooper
was a staff photographer for the
New York Post
(1977 - 1980) she learned that "The city's poorer neighborhoods had the richest street life." She left her job at the
Post
and began documenting across the world, children's street play. In thinking about what she had learned while in New York, she writes:
Children often played for hours without adult supervision and frequently supervised younger siblings themselves. As I photographed these kids, I came to admire their creativity, energy, humor and willingness to share. I marveled at the simplicity of their homemade toys and at their imagination in playing with them.
Images by Martha Cooper from here.
Maxine Greene (2007) tells us that imagination is "the capacity to break with the ordinary, the given, the taken-for-granted and open doors to possibility." She tells us that a way to describe imagination is as a "passion for possibility."
A passion for possibility can be seen in the images Cooper makes of children at play. In contrast to Cooper's images made in the streets, I wonder about the images we make at school. Is there enough room in the lived curriculum for the unexpected? Is there enough room for children to imagine in ways we cannot and will not predict?
I think about the images Cooper made of children at play and how these images illustrate the power of a child's imagination alongside Greene's definition of learning as imaginative play. This thinking makes me wonder how often we explore imagination inside of school and just how natural it is for children to employ their imaginations when they are beyond the school door.
Agency seems to matter.
All of this gives me pause and makes me wonder how we might invite the world that children compose outside of school inside our classrooms. Imagine what we might learn if there was enough space for play that we did not orchestrate.
Works Cited
Cooper, Martha. (2006).
Street Play
. Berlin, Germany: From Here to Fame Publishing.
Greene, Maxine. (2007).
Imagination and the Healing Arts.