I.
Jax Weaver and her daughter want everything opened again in Texas regardless of Coronavirus. They made a sign saying so. They went to a rally with others
and said so again. Apparently, Ms. Weaver is confident they are healthy enough to fight the virus. The
NY Times
reported,
"

Jax Weaver, 33, an out-of-work photographer who lives in Austin and came to the protest with her daughter, Brooklyn, 7, said she was frustrated with the limits on daily life. Among other things, her wife was forced to cancel her in vitro fertilization."
from Tx
Ms. Weaver doesn't understand science, or worse, she doesn't care about the outcomes of a virus on the run. Everyone who comes in contact with her, if she is positive for COVID 19, can become infected, and those who do will likely then infect others (especially in Texas where things are opening up). Some among the infected will not be as healthy as Ms. Weaver thinks she and her 7-year-old are. Those people won't like their odds against a deadly, deadly virus. Some of those would never risk their child to such a gamble. But it won't be their decision. Ms. Weaver and those like her are making that decision for 320,000,000 citizens.
But that's a gamble Ms. Weaver is willing to take, so she and her 7-year-old daughter aren't "frustrated with the limits on daily life."
II.
Ms. Weaver's frustration is an apt example of white privilege. White privilege says,
I am so important and my needs are so important that it is only logical that my needs must be answered. I am entitled. My wants are critical. My judgment is the best. I know truth. I am truth.
As a white woman I tell you we are trained from early life to believe such dangerous rhetoric, such dangerous beliefs about our own self importance and the "god-given" importance of white people. Full blown white privilege means that I would not even have a glimmer of recognition that someone else's needs might be more significant than mine, because I have been told daily by the institutions I visit and am part of that my whiteness sends me to the head of the line (well a little behind white men and white boys). Recognizing that privilege, understanding it, and working against that privilege every day matters.
In light of COVID 19 that mattering is more overt. White privilege is deadly. I don't mean that metaphorically. I mean it literally.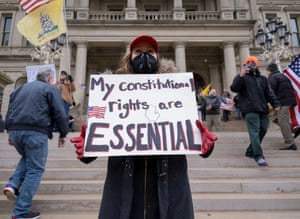 A woman wearing a face mask holds a placard as supporters
of the Michigan Conservative Coalition protest
against the state's extended stay-at-home order.
Photograph: Seth Herald/Reuters Guardian
In Texas as of today there are 17,371 confirmed cases. Maybe Ms. Weaver has less to worry about. Although whites make up 73.5% of Texas population, they account for only 34% of the COVID 19 cases (2018 US Census Bureau). In contrast African Americans in Texas make up 12.5% of the population and yet, they account for 10% of the COVID 19 cases in Texas.
AP news reported, "African Americans account for more than one-third of COVID-19 deaths in the U.S. where the race of victims has been made publicly known. Data from states, cities and counties show black people are regularly overrepresented compared to their share of the population:
III.
About the same time racial breakdown of COVID 19 was being first reported, the beginning protests were also starting.
What do you notice about the crowds (pictured above and below)?
Angry? (check).
White? (check)
from here. Perhaps I am just seeing photographs of the crowds who are white and angry and are demanding states "open up" and allow COVID 19 to spread. It does seem like a trend though.
IV.
Way east of Texas, where I live in northern NJ, there are 81,420 confirmed COVID 19 cases. On April 1 that number was 22,255 and that represented a significant spike from the week before when the number of cases was 3,675. That's why we have been trying our best to stay home and stop infecting ourselves and others.
Near here there are children living in homes with their dead relatives. They are right now waiting for some adult to come and remove the bodies of those they love. They don't understand what is happening apart from what they now know about dying.
Given the morbidity rate of COVID 19 by race, many of those children are likely African Americans. They, unlike Ms. Weaver's 7 year old daughter, don't have time to make signs and go out and complain about their "freedom" and "rights" and "frustrations with the limits on their daily life."
What we do know is that their daily lives will never be the same.
I want people like Ms. Weaver who are put out, frustrated, economically challenged and so on to remember those children who never had to witness their loved ones die had the president acted when he was first briefed and shut down the country (something he never did) in January 2020. Instead of telling us COVID 19 was a democratic hoax, that it was contained, that it would dissolve in April like magic and other sick lies, had Mr. Trump acted responsibly and ordered the shut down and the development of tests, we would not be where we are today.
Those children waiting for help would be out playing, like Ms. Weaver's privileged child is likely doing today.